If you grow any type of plants at your home, your backyard may be a gold mine of free seeds. And with a little bit of patience and organization, you can turn those free seeds into free plants, potentially saving you lots of money and trips to the garden center! There are different methods of collecting seed from different plants, and most fall into two categories: dry seed or wet seed.

Dry seed includes veggies like peppers and carrots as well as most herbs and flowers. These seeds must be harvested after they have dried on the parent plant to ensure full maturity. Collecting too soon decreases vigor and germination rates. To harvest, simply pluck the seeds/seedpods off the parent and put in a dry place. For fragile, long-stemmed plants (like dill and cilantro), cut the top few inches off, secure head with paper bag, and hang upside down for at least a couple weeks - all winter if you'd like. The paper bag will catch any seeds that fall as they dry. For seeds that still need separation from plant tissue, allow to completely dry then crumble into a bowl. You can separate the seeds and "chaff" by using a few different methods. Accurately-sized mesh screens capture larger material and let smaller seeds fall through. An angled wooden board keeps the chaff up top while round seeds roll down its surface. And the classically-used technique of "winnowing" involves pouring the mixed material into a bowl from a height that allows the wind (or a fan) to blow the chaff away. (You can also just bounce the mixture in a bowl and carefully blow the chaff away) Once you have the seeds cleaned, package and LABEL. I use coin envelopes from Staples to organize them, writing the type of seed as well as the year harvested on the front. Most seeds can last years if stored properly in a cool, dark place.

As for wet seed (like tomatoes and cucumbers), they become a little more difficult to work with. They must also stay on the parent plant, sometimes longer than "market" readiness, to mature. Consult this handy

chart

to see when your edibles are ready to be harvested for seed. To properly dry, scoop out the seeds with minimal pulp into a bowl filled with water. The viable seeds will sink, and the dead ones will float. Carefully pour off the bits of pulp and dead seeds, rinse remaining seeds, and repeat several times until no more pulp remains. Then drain into a strainer, pulling off excess moisture by dabbing a towel along its underside. Spread seeds onto a dry glass or ceramic plate and place in a cool, shady spot for several days. The larger the seed, the longer it'll have to sit out to dry. You can tell when they're ready if seeds like squash break instead of bending and seeds like corn shatter when hit with a hammer.

Some wet seeds also need to

ferment

before drying - specifically tomatoes, cucumbers, and melons. Fermenting can be a tricky (and stinky) process even for the expert gardener, but it helps increase germination rates and eliminate disease pathogens. Immediately after harvesting, scoop seeds into a jar, again, with minimal pulp attached. Fill with about half as much water as pulp and seeds, and set in a warm place (75-85 degrees Fahrenheit) for one to five days. Keep an eye out for bubbling and/or the formation of white mold on the surface of the mixture. Once this happens, leave for 24 additional hours, then continue with the cleaning process as described in the previous paragraph.

When harvesting any kind of seed, take note of the parent plant's health - it's size, vigor, and any presence of disease.

Bacteria and viruses

can be transmitted through seeds, as they are a systemic infection. Fungi cannot. Healthier plants produce larger, healthier seeds, so harvest only from your best. Not only does harvesting your own seeds save you tons of money; it gives you a deeper sense of pride in your garden. Your plants don't come from starts bought at the garden center anymore. They are yours, through and through. I find the practice almost meditative. Just put on your headphones, pop in some music, and get ready to have an endless supply of your garden favorites!

---

Fall is here, my favorite season of the year! And while most people are only thinking of the clean-up left to do before putting their gardens to bed for the winter, it's actually a great time to squeeze in some last-minute crops. Certain plants, like basil and cucumbers, thrive in hot summer temps, but there are many that grow much better in cooler weather, actually preferring those light fall frosts. Plant these in your garden for late-season interest and a kick to your autumn dishes. But remember, most of these are only hardy down to 28 degrees Fahrenheit, so if nighttime temps threaten to dip below that, use

frost covering

to protect these fall beauties.

---

Lettuce
The ever-standard, beginner gardener's crop, lettuce is easy to grow and requires very little care. There are a multitude of varieties available, and planting a few of each will create a beautiful carpet of greens that you can mix into equally beautiful salads. Flashy Trout's Back is one of my favorites. Direct sow or transplant four to five weeks before your first average frost date. Baby lettuce is ready to pick three weeks in, or wait another week to get full-sized leaves.

---

Arugula

Direct sow arugula every few weeks throughout the growing season to get a continuous crop, and plan your last round about a month before your first average frost date. A

void transplanting arugula as it has a long, sensitive taproot.

This green is one of the fastest to mature, with baby leaves ready in three weeks.

For such a little plant, it packs a big punch, adding

a strong, nutty flavor to seasonal salads. A light frost will sweeten a late-season crop.

---

Spinach

Spinach can take very cold temps (down to 28 degrees Farenheit) and bolts in the heat, making it a perfect candidate for cool-weather gardens.

Direct sow this nutrition-packed green four to five weeks before your first average frost. Thin seedlings four to six inches apart and fertilize with blood meal when plants are a few inches tall. Harvest leaves before they get too large and bitter, and harvest frequently to keep generating vegetative growth.

---

Kale
​Another beautiful green to include in your salads, kale comes in a variety of colors and forms. Direct sow five weeks before your last frost and thin six to eight inches apart. Eat the thinnings as baby kale. Plants mature in 30 days and can become very large, tolerating heavy frosts and sometimes able to overwinter with milder temps. Leaves sweeten after a frost. Keep these delightful plants around to cure those dreary winter blues - Redbor and Red Russian are solid winter performers.

---

Radishes
​Radishes are widely prized for their rapid growth, taking only 21 days to reach maturity. They are a great teaching plant for children or tasty vegetable to pickle. Direct sow at the beginning of each month to get a continuous crop, adding a few inches of rich compost between each planting. Radishes can tolerate a light frost, and like all other plants on this list, get sweeter with the cold. Try roasting them in butter with other veggies for a heavenly treat.

---

Baby Carrots
Baby carrots, as opposed to "baby-cut" carrots, are simply smaller varieties harvested earlier than normal, when they're about three to four inches long. To achieve these snackable results, plant fall carrots a bit closer than the seed packet recommends and harvest while still tender - usually thirty days after sowing and never more than four inches long. These sweet little vegetables are a great companion to radishes and mature just in time for chilly weather and soup season.

---

Mustard Greens

In my opinion, mustard greens are one of the most underrated garden greens. Like arugula, it packs a big punch in a little package - all in varying colors and textures. Besides the peppery taste it can lend to dishes, mustard greens offer many

health benefits

as well. Direct sow or transplant four to five weeks before your last average frost date and thin four to six inches apart. Baby greens are ready to harvest at three weeks, and the plant matures at four weeks.
Powered by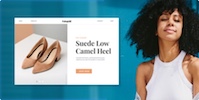 Create your own unique website with customizable templates.