When searching for DIY compost bins online, it's easy to get overwhelmed at the vast array of plans available. Do you want one bin or three? Moveable or stationary? Do you have the tools to build them? Do you know how to use those tools? As someone with pretty limited experience in carpentry, I get easily intimidated with complicated cuts and equipment. But while looking for something to replace the pallet bins I'd built a couple of years ago, I stumbled upon

this gem

. These plans were not

exactly

what I was looking for, but they inspired my own design. (If you are looking for a small system that's easy to move around, I recommend the link above. If you want something bigger, read on.)

These are the bins I initially built from old pallets laying around the brewery. Convenient? Yes. Functional? Yes. Durable? Not so much. While it felt great to be able to reuse materials that would otherwise be trashed, untreated pine only lasts so long. And the bins were so large, I had a hard time filling them up quickly enough to attain efficient turnover.

So I set to work creating a new plan. I found cedar boards and 2x4s at Home Depot, and purchased all the hardware from our local Wilco store. I also reused the hinges from our old bins, so that saved about $15. If you can find reclaimed hardwood lumber, go for it! Recycling will make your project cheaper (and more sustainable!).

---

---

3-Bin Compost Plan

(3) 12' cedar 2x4 studs

(28) 6'x6" cedar fence boards

(1 roll) 3'x50' galvanized chicken wire

(1 box) heavy duty staples

(8) concrete pavers -

optional

(1 gal) wood stain -

optional

(60) 1.25" wood screws

(1 lb) 1.5" wood screws

(12) 2.5" wood screws

(4) 3" stainless steel hinges

(2) 3" galvanized barrel bolts

(4) 3" galvanized hinge hasps

(4) 1/4" galvanized lynch pins

---

To start this project, I had the fellows at Home Depot cut my cedar boards and 2x4s into three foot sections - they don't guarantee a perfect cut, but it's much better than I can do. If you want to stain your wood, you should do it at this point rather than later. You will see why below.

One of the problems I had with our old bins was that - since I built the walls first, then installed the chicken wire - the wire wasn't flush to the corners and kept pulling itself off the wood. So I designed the new ones to bind it between layers. It makes everything a little bit harder to put together, but the results are 110% better.

I built the bins from left to right, going clockwise around each section and saving the doors for last. Once you measure out and secure wall 1, as tricky as it is, you can pretty much eyeball the rest of it. To construct

wall 1, start by laying down the horizontal boards first (about two inches apart), the chicken wire on top of that, and staple the wire along the top edge of the top board and bottom edge of the bottom board. You'll have to flip the whole thing over for the next step.

Once everything is flipped over, slip a 2x4 under the left edge and square it up to the top and bottom corners. Secure with (2) 1.5" wood screws per board. Then move on to the three middle boards, measuring them each at 2 1/8" apart and securing with just one screw. To finish squaring this wall up, you'll be screwing other side of the boards into the skinny side of a 2x4 with the chicken wire in between. Start at the corners again and work your way in, filling in each board so that it's secured with two screws into each corner stud.

At this point, you've been working on the ground. You'll have to prop the project against something to keep it upright while assembling wall 2. And remember the wire needs to stay between the boards and 2x4s, so just wrap it around the backside of the stud and staple. Line up the next set of boards and secure with one screw, making a flush corner by pulling them to the edge of the boards on wall 1.

Staple the chicken wire along the top edge of the top board and bottom edge of the bottom board again, then square the boards and screw them into the skinny side of another 2x4. Continue the same process for

wall 3

, following the 2x4 positioning laid out in plan above. Cut the chicken wire along the edge of your last stud. To finish off this wall, staple wire onto its backside and secure the 2x4s into position with (3) 2.5" screws each. You can now assemble the rest of the walls following their respective patterns in the plan.

After the bins are assembled, the doors should feel like a piece of cake. Though they are the same height, they will be a little bit narrower at 33" wide (and all identical). You can either cut three inches off the remaining fence boards, or construct first with all the long ends hanging off one side and cut with a reciprocating saw. I did the latter. Notice you will also only be using fence boards for the doors, no 2x4s, as well as the 1.25" wood screws. Once the doors are done, attach the hinges and locking mechanisms as shown and viola! You have a beautiful, functional, and durable compost bin that you can show off to your neighbors. Remember if you do choose to stain your bins, use

non-toxic materials

so that you don't inadvertently introduce harmful chemicals into your garden. I also perched the whole system on top of cheap concrete pavers to reduce contact with the ground, staving off wood decay and increasing air flow to the bottom of future compost piles.
Powered by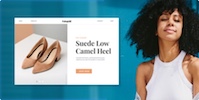 Create your own unique website with customizable templates.