It can be hard to grow edibles inside. We've probably all had our share of "Pinterest fails" after attempting to duplicate something like this:

But it looks so simple! How hard can it be? And you know, sometimes you can make it work. Sometimes you finish a beautiful project and it stays beautiful for weeks on end. But other times it looks great for about a month then slowly morphs into thin, scraggly, many-headed Medusa before your very eyes. It's easy to start an indoor garden, but the trick is in maintaining the health of your plants.

First of all, you have to consider siting. Plants can exist in sub-par lighting, but they're not going to look great. Even "low-light" edibles like leafy greens and herbs need a minimum of four hours of direct or bright indirect sun to stay healthy. When they don't get enough light, herbs start to thin and stretch out, a weakening and unsightly process called etiolation. This also means they're not getting enough light to continue photosynthesis and can't make enough energy to produce new growth. In other words, they're going to die - maybe not right away, but eventually, in a slow, torturous decline. So make sure you give each of your plants the recommended amount of sunshine to keep them green and growing. Another problem you may encounter with indoor gardening is overwatering, especially when using planters without drainage holes in the bottom. Indoor plants usually don't need as much water as their outdoor counterparts unless they're in direct sunlight, so only water when the top layer of soil has dried out. It's easier to rescue a plant from underwatering than overwatering. And while fully contained planters are great for eliminating leakage (like in the projects above), they inhibit air movement through the soil and smother roots when kept too wet. What you can do to get the best of both worlds here is to plant your herbs in cheap plastic nursery pots, set those inside the nice pots (as long as they're not see-through), and voila - beautiful, non-waterlogged containers that won't drip all over the floor! Simply remove the herbs when they need water, let them drain in the sink for a few minutes, then place back into the display. If you are dead set on using something like mason jars, consider drilling a hole in the bottom. It really does make a big difference.

So what are the best herbs to grow indoors? This might be obvious, but choose the ones you use the most in your cooking. Plants respond well to periodic pruning (but never more than 1/3 of the plant). It stimulates new growth and keeps the plant from outgrowing its container for longer. The herbs that hold up the best are thyme, parsley, basil, cilantro, rosemary, mint, and chives. Cilantro grows best from seed and matures quickly, so plan on rotating it out every 2-4 weeks depending on the season. Basil and chives are also easy seed starts. Many herbs can be propagated via cuttings like thyme, basil, rosemary, and mint; and all can be found at your local garden center if you're feeling impatient. As a fair warning, keep mint in its own container at all times. It WILL take over an entire planter - or an entire garden, for that matter - if you let it.​ To keep your herbs vigorous, fertilize twice a month with a nutrient-rich product like bio-fish during the summer, but only once a month in winter as photosynthesis slows down quite a bit. And remember to rotate them from time to time, as plants always grow towards the light. Leaving them in one position will produce crooked growth unless they have even overhead lighting.

If you're successful, eventually your herbs will outgrow their planters. You can tell they need transplanting when the roots have begun circling around and around the inside of the pot, creating a mass of intertwined strands. If left to grow, they will take over more area than the soil, resulting in frequent wilting between waterings and undue stress to the plant. Some herbs, like chives and thyme, can be divided by pulling sections of the plant apart at the root zone, then replanting each of those sections in their own pots. And all herbs can just be potted up into larger containers.

So go crazy! Replicate that Pinterest project, but know that you might have to make modifications to make it last longer. I don't mean to discourage you from trying to recreate projects you see online. Just know that there's usually more to consider than the aesthetics. And if you haven't already, visit our

Pinterest site

to learn even more about herbs and indoor gardening!
Powered by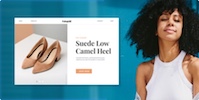 Create your own unique website with customizable templates.