Hot dogs, baseball, apple pie...and green lawns? Few things are as irrefutably American. Starting in the latter half of the twentieth century, as "victory gardens" lost their shine and suburbia took hold, many home owners opted for the new ideal of a clean, expansive, bright green, weed-free lawn. And that tradition has largely continued to this day.

Being soft and bare-foot friendly, grass offers the perfect space for outdoor entertaining. It absorbs and filters water, improving water quality and reducing storm water runoff and erosion. It provides oxygen and creates a cooling effect during hot summer months, and trap dust and dirt that would otherwise find itself inside your home. Lawns offer many benefits to home owners, but they also come at an environmental cost. According to the U.S. National Wildlife Federation, 30% of water on the East Coast and 60% on the West Coast goes to watering lawns. In states that already suffer from drought conditions, that's a huge drain on resources. 18% of all municipal solid waste is yard debris, and the average lawn receives up to ten times more chemical pesticides per acre than farm land - that's 70 million tons per year. Those stats are staggering, to say the least. But what can we do?

1. Start with healthy soil. Most plants thrive in slightly acidic soil, so perform a simple pH test to determine if you're in that ideal range of 6.5 to 7.0. Even if there are nutrients in the soil, plants can't necessarily absorb them unless the pH is correct.

See nutrient availability chart here

. Add lime to raise pH and sulphur to lower it. Spread a thin layer of compost on top of your lawn every year if you can. This helps increase organic matter and water retention, and will benefit both clay and sandy soils. Most lawns become compacted over time due to heavy foot traffic, so aerate accordingly.

2. Be water smart. Allowing the top couple inches of an established lawn to dry out between waterings forces roots to grow deeper, increasing drought tolerance, so water deeply and infrequently. Most lawns need just one to two inches per week. Test your sprinkler output with a measuring cup or rain gauge and adjust as needed. Water early in the morning to discourage fungal and bacterial diseases.

​

3. Switch to an organic fertilizer. Maintaining a lush, green lawn with synthetic chemicals is one of the most inefficient landscape practices we perform. Think about it - we go through the whole rigmarole of buying expensive fertilizers to apply at least twice a year, but then we pick up the grass clippings every time we mow, effectively removing the only source of natural fertilizer our lawn receives and wasting money in the process. Switch to an organic fertilizer like seaweed, bone meal, blood meal, epsom salt, or compost tea and leave those grass clippings on the ground. They're small enough that they biodegrade within the week and become unnoticeable anyway.

4. Don't be overly concerned with weeds (

unless they're listed as invasive to your area

). You may think those dandelion and clover heads are unsightly, but native pollinators love them. Clover is also a nitrogen-fixer, so naturally helps keep your lawn greener. And if you really can't stand the weeds, mechanically pull or spot spray with a citrus oil or white vinegar weed killer early in the season. Chemical herbicides kill up to 80% of earthworms in your yard and can be tracked inside your house, persisting longer than they do outside. They can also leach into groundwater sources, causing pollution down the line. Use corn gluten meal as a pre-emergent. It's safe, natural, but not as long lasting as its synthetic counterparts so may need to be reapplied multiple times. As with most organic methods, all of these require more patience and vigilance, but you'll be rewarded with a healthier lawn and household.

5. Know when to mow. Most grasses can be kept at two and a half to three and a half inches tall. Don't mow too short or you risk exposing surface roots, causing your lawn to dry out faster. And never mow more than one third of a lawn's height as it can send grass into shock. When trying to tame an overgrown lawn, start high and gradually work your way down. Cut slightly shorter in the fall to avoid mold problems.

6. Replace traditional lawns with a native, drought-tolerant grass mix or other lawn alternative. Native grasses are already suited to your area's climate, so should perform better without supplemental watering or fertilizing. In recent years, low-mow and no-mow grasses have become more popular for low-maintenance areas. There are so many other options for a beautiful yard! Try planting ground covers

like thyme, clover, sedum, ajuga, creeping charlie, moss, snow-in-summer, or sweet woodruff. These never need to be mowed and have the added benefit of seasonal flowering. You can reduce your lawn area by adding foundation plantings, shrub and perennial beds, or even a small edible garden or raised vegetable bed. Go all out and build a dry river bed and rock garden. The possibilities are endless.

What is certain is that chemically-saturated lawn care is hard on your wallet, your health, and the environment. So switch over to organic methods today and start planning a more creative yard.
Powered by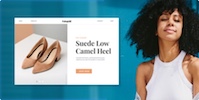 Create your own unique website with customizable templates.