It's finally that time of year again! The ground is beginning to thaw and hop shoots are pushing their way through the frosty spring soil. And if you have a 2+ year old hop plant, your rhizomes should be ready to harvest.

Rhizomes are the thick, root-like stems that grow horizontally out from the crown one to six inches below the soil surface. Although they look like roots, rhizomes have groupings of small, peach-colored buds, and can be severed from the parent plant and repotted to produce genetic clones. To harvest, gently pull up the entire length of the rhizome and snip it off at the base of the plant. Then cut into six(ish) inch sections, keeping at least two bud groupings per section. If you don't have your own hop plants to harvest from, there are plenty of trusted online resources that sell hop rhizomes. I just bought some new varieties for our trellis from

Freshops

.

There are a few different ways to plant hop rhizomes, but I like to start them in one gallon pots to be planted outdoors later. This gives them a good head start for the season and you complete control over growing conditions. To begin, fill a pot partway with high-quality potting soil. Place the rhizome in vertically, with the buds pointed upwards, then cover with more soil. You can leave a little bit exposed or bury completely - it will grow either way.

---

Once you've got all your rhizomes planted, water thoroughly and place in a sunny spot. Keep an eye on the moisture level for the first few weeks. You want to keep the rhizomes damp but not saturated. Over watering kills. Every time. When they've pushed a significant amount of green growth, you can water more frequently. And don't forget to label your pots, especially if you're growing different varieties. It's virtually impossible to tell the difference between hop varietals without chemical testing if you've gotten them mixed up.

Supplement your hops with a nitrogen-rich fertilizer once they've grown at least eight inches tall. I like to use blood meal, although it can stink up the greenhouse for a day or two afterward. When you're ready to plant outdoors, choose a sunny spot where the hops will have plenty of room to grow vertically and a

structure to climb on

. They can tolerate heavy frosts once they're established, but need to be hardened off prior to planting outdoors. To do this, bring your hops out during the warmer hours of the day, leaving them out progressively longer each day until they've acclimated to their new environment. Two or three days usually does it. Finish the planting off with a top dressing of compost and mulch, and enjoy! If properly cared for, hops can grow several inches per day and will come back every spring.
Powered by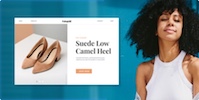 Create your own unique website with customizable templates.