I used to HATE succulents. I don't even know why. It's true - they are notoriously easy to overwater and can be picky about light quality - but these days I can't get enough of them. So much so that I've dedicated almost an entire table in the greenhouse to multiplying our collection. Once you get the hang of it, propagating succulents is SO EASY! And since they tend to be on the expensive side, it's a much cheaper option than buying them year after year.

You can propagate succulents a few different ways: leaf cuttings, tip cuttings, and divisions. Most reliably reproduce via leaf and tip cuttings, and plants that make pups (like aloe and hens & chicks) can be easily divided. It's usually obvious to tell by the way the plant grows which method you can use, but feel free to experiment. That's half the fun/challenge(/frustration?).

Leaf cuttings

Most succulents thrive under bright light. If they're not getting enough, they become leggy, extending the distance between nodes in an attempt to reach for more light and leaving you with a sad, stretched-out plant. This is the perfect specimen for leaf cuttings. Simply pull off a few of the bottom leaves (you can use sharp scissors, but I find this unnecessary as most leaves pop off easily with a soft twisting motion), making sure to keep the entire leaf intact, most importantly the spot where the leaf meets the stem. This is from where new roots and shoots will grow. Planting directly into soil at this point may rot these fleshy leaves, so put aside in a dry spot for 2-3 days until the ends have callused over. Then place horizontally on top of your soil mix - either regular potting soil or a cactus mix; I've used both with equal success. Contact between the leaf node and soil isn't necessary as the roots will eventually grow down to reach it. Like their mother plant, these cuttings will rot if overwatered, so water once, then again

only

when the top layer of soil has dried out. If you're a chronic over-waterer, try using a spray bottle instead of watering can. This next step is slow, but with enough patience and tempered watering, you'll start seeing rootlets forming around week three or four. Some cuttings may not root, some may rot and die, some may form leaves but no roots - again, all part of the fun. Typically, leaves follow roots, then roots eventually reach the soil and become a more established baby plant. You can transplant them individually into a pot once the plants are at least a couple inches tall. And voila! A handful of new house plants to keep or gift away!

Tip cuttings

I can't tell you how many times I've broken off pieces of some of my more fragile succulents, only to turn around and make lemonade. Many succulents can be propagated from accidental or intentional tip cuttings. Just take off the top two or three inches of the plant with a sharp knife and pull all but a few leaves at the tip off. Set aside for a couple days to allow stem to callus over, then pot up into a small container of soil. Water once, then only again when the top layer of soil dries up. If your plant starts turning orangey-purple, water a little bit more, and if it starts turning yellow and squishy, STOP. That means it's getting too much and will rot if you continue watering at the same pace.

And remember that sad, leggy plant that you removed the bottom leaves from to do your leaf cuttings? That's a tip cutting too!

Generally, tip cuttings are a faster and more reliable way than leaf cuttings to propagate succulents. The plant below (of which I still have not found its name - let me know if you know it) is one of the easiest I've tried so far. You don't even need to remove any leaves when planting - just stick the end in the soil and water. It grew to a good-sized houseplant within a couple months and is one of my favorites.

Divisions
Divisions are the easiest way to multiply your succulent collection, but not all succulents can be divided. The easiest way to tell is if it makes "pups," little baby plants that grow off the mother plant. Aloe plants and hens & chicks are perfect examples. Their pups are attached by runners (aloe below ground, hens & chicks above ground), so you just need to separate them from the mother plant and repot into their own containers. No need to set aside to callus.

Some ground cover succulents, like sedum and delosperma, can also be divided. They will root wherever a stem touches the ground, so it's easy to dig up a chunk from your garden and transplant to a new spot or into a container. Overgrown potted plant? Pull it out, pull apart starting at the root ball, and repot each chunk into it's own container. It's really that easy. I split the plant below into four new plants, giving each chunk a haircut to keep neat before repotting. There was tons leftover from said haircut, so I kept a few pieces and replanted as tip cuttings.

Soon you'll become a propagating pro, and you'll have more plants you know what to do with. For real. It's addicting. Don't say I didn't warn you! If you're lucky, you have friends who are always willing to give your extras a home. Cause who doesn't love free plants?
Powered by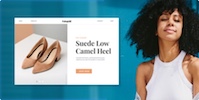 Create your own unique website with customizable templates.